This past week has been a fun week with a special little friend. We have had a visitor at our house and he is quite famous! You might know him. His name is Flat Stanley! Our sweet cousin, Dani sent us her Flat Stanley from McKinney, TX. I wish Dani and her family could have come with Mr. Stanley, but hopefully we will see them soon! So what all have we been doing with Flat Stanley?
We were so excited to get him in the mail on Tuesday morning and I think he was happy to stretch his legs and arms a little. He has traveled over 350 miles to see us!
We were so happy to show him a little of Wichita, KS!
Wichita is the largest city in Kansas. He heard lots of airplanes during his visit because Wichita is known as "The Air Capital of the World". Beechcraft, Cessna, Boeing, Learjet and Spirit AreoSystems operate factories here, so there is always a plane in the sky.
I think we also turned Mr. Stanley into a Shocker fan!!! If only we were still in the Final 4, he could have helped us cheer on the Wichita State Shockers!
On Thursday Flat Stanley went to school with Hunter! They rode the bus and everything!
Hunter goes to Vermillion Elementary in Maize, KS. School is little different than school in Texas. Hunter is in half day kindergarten. He goes to school every day from 8:45 to 11:45. Next year he will go all day, from 8:45 to 3:55.
Flat Stanley was apart of Mrs. Hill's kindergarten class. He helped make bunnies and even went to P.E. with the class!
Thankfully Mr. Stanley did not have to worry about any tornados this trip. Kansas is known for it's tornados, but so is north Texas. He did like our basement. Just about everyone has a basement in Kansas. Our basement is where we watch tv and it's the playroom for the kids. Mr. Stanley did watch the movie Frozen about a dozen times with Maggie and Archer. He can probably sing all the songs now.
On Saturday morning we took Mr. Stanley to see the Arkansas River and to see the Keeper of the Plains!
The Keeper of the Plains stands at the confluence of the Big and Little Arkansas rivers with hands raised in supplication to the Great Spirit. Since the sculpture's installation in 1974 to commemorate the United States Bicentennial, it has become a symbol for the city of Wichita and a tribute to the Native American tribes who continue to gather at this sacred site.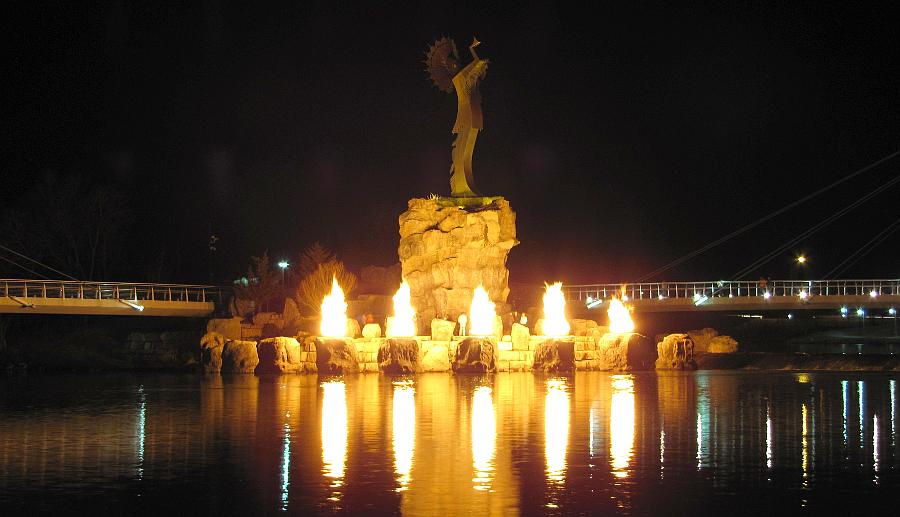 He wanted to go back at night to see the ring of fire, but it was just to cold on Saturday evening.
We had so much fun with Flat Stanley this week! Thank you, Dani for sending him to us! I hope he had a good time and that you have learned a little about Kansas!